Last update: April 21st, 2021
1. GENERAL PROVISIONS
1.1. We care about your privacy and the security of your data, so we have developed this Privacy Policy (hereinafter the "Privacy Policy"), which explains how we process and protect your personal data, what your rights we ensure, and provides other information about the processing of your personal data.
1.2. "You" in this Privacy Policy mean the person who visits the Website, uses our services in our Website or App, visits our Social Accounts, contact us via electronic communication channels as well as the person who represents the organization that concludes the contract with.
1.3. In this Privacy Policy, the term "personal data" (hereinafter referred to as "Personal Data") means any information or set of information by which we may directly or indirectly identify you, such as your name, email address, telephone number, etc.
1.4. We process Personal Data in accordance with the provisions of the General Data Protection Regulation No. 2016/679 (EU) (hereinafter – "GDPR") and the requirements of the legal acts of the Republic of Lithuania, as well as the instructions of the authorities.
1.5. The Privacy Policy applies when you visit the Mindletic website, available at https://mindletic.com/ (hereinafter the "Website"), use our mobile application (hereinafter the "App"), our accounts on Facebook, LinkedIn and Instagram social networks (hereinafter "Social Accounts"), view the information provided by us, order and use the services we offer, access or exchange information on the Website or the App, contact us by phone, other electronic means, express your interest in our offers and news or apply for other issues.
1.6. Our Website and App may contain links to third party websites, applications, platforms or social network accounts. This Privacy Policy does not apply to third party websites, applications, or services. Please review their privacy policies before submitting your Personal Data to these third parties. We don't control and aren't responsible for the third parties' content, services, or data processing.
1.7. If you order our services, use our App, visit our Website or Social Accounts, contact us, subscribe to our newsletter, we consider that you have read and agree to the terms of the Privacy Policy and the purposes, methods, and procedures for the use of Personal Data set out therein. If you do not agree with the Privacy Policy, you may not use the Website, the App, Social Accounts, subscribe to our newsletter or contact us for offers of our services.
1.8. This Privacy Policy is subject to change, so please visit the Website from time to time to read the latest version of the Privacy Policy published.
1.9. When You use our App this Privacy Policy applies in conjunction with the App Privacy Policy, which can be found here.
2. WHO ARE WE?
2.1. We are UAB Emocinis balansas, a private limited liability company established in the Republic of Lithuania, legal entity code 305553328, address I. Kanto g. 2-3, Kaunas, data are collected and processed in the Register of Legal Entities of the Centre of Registers, State Enterprise (hereinafter the "Company" or "us").
2.2. We manage our services, the App, the Website and Social Accounts and act as a Personal Data Controller in offering and providing services, performing the Company's day-to-day operations, or complying with legal requirements.
3. WHAT YOUR PERSONAL DATA DO WE PROCESS?
3.1. We process your Personal Data obtained in the following ways:
3.1.1. When you provide us with Personal Data, for example, register on the Website, the App, order our services, contact us by e-mail or telephone, etc.;
3.1.2. When we collect your Personal Data when you use our services, the App and the Website, Social Accounts, such as the history of use of the Services, your IP address, the history of your visits to the Website, your choices, open URL links, etc.;
3.1.3. When we receive Personal Data from other parties, for example, when we receive information from public registers, state or local government institutions or bodies, our partners, other third parties, such as payment institutions, about payments made, etc.;
3.1.4. When your personal data, with your consent, is provided to us by other persons, including companies using our services, for example, when such Companies indicate your contacts, refer to you as an authorized person, and so on.
3.2. We process Personal Data in order to offer and provide services, to fulfil our contractual obligations, as well as pursuing our or third parties' legitimate interest, in compliance with legal regulations or obligations.
3.3. The person providing Personal Data to us, both when providing his/her Personal Data and Personal Data of other persons (such as employees, representatives), is responsible for the correctness, completeness, and relevance of such Personal Data, as well as for the consent of the data subject for his/her Personal Data provision to us. We may ask you to confirm that a person has the right to provide us with Personal Data (for example, by filling in service order or registration forms). If necessary (for example, a person inquires us about receiving his/her Personal Data), we will identify the provider of such data.
3.4. We process your Personal Data for the following purposes and under the following conditions: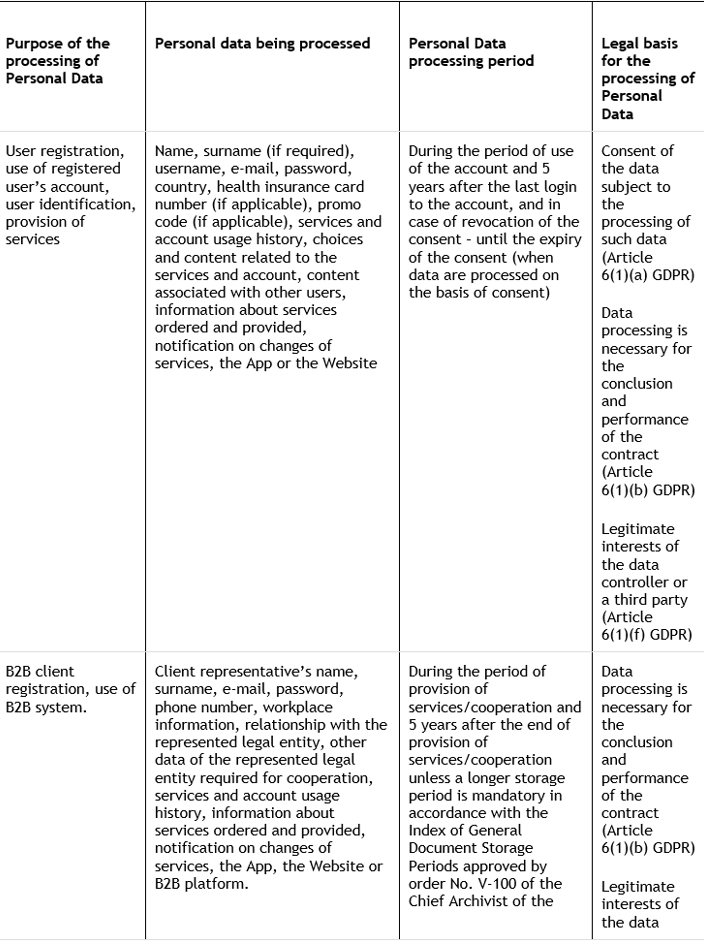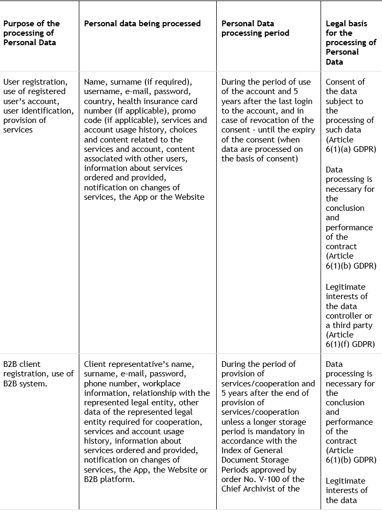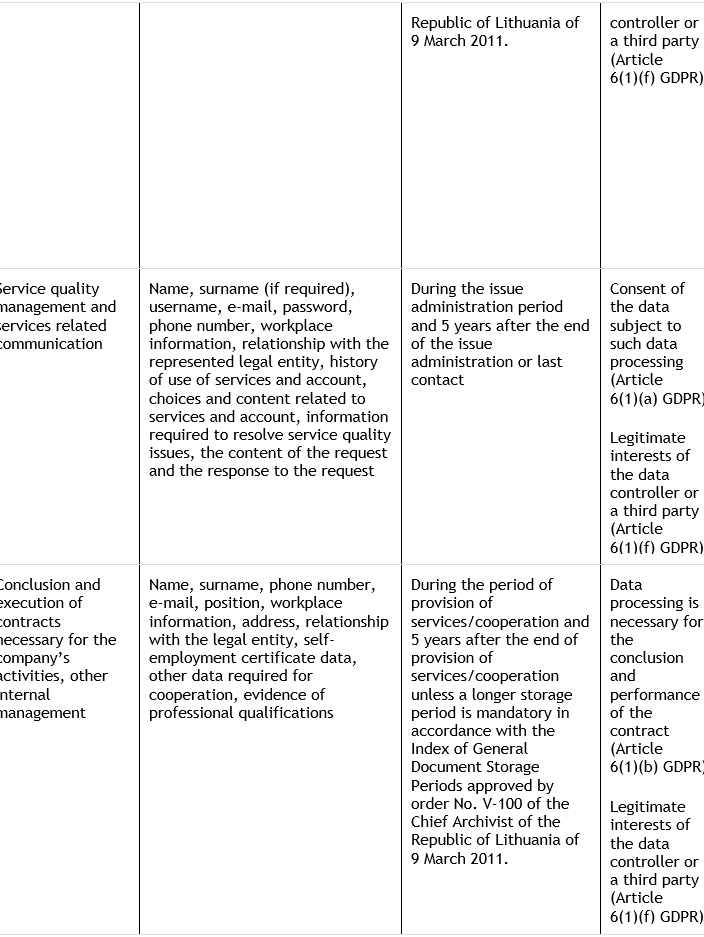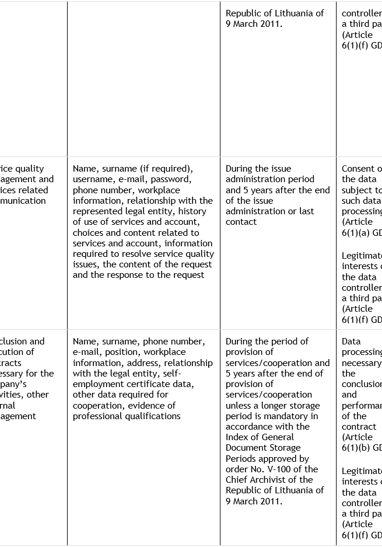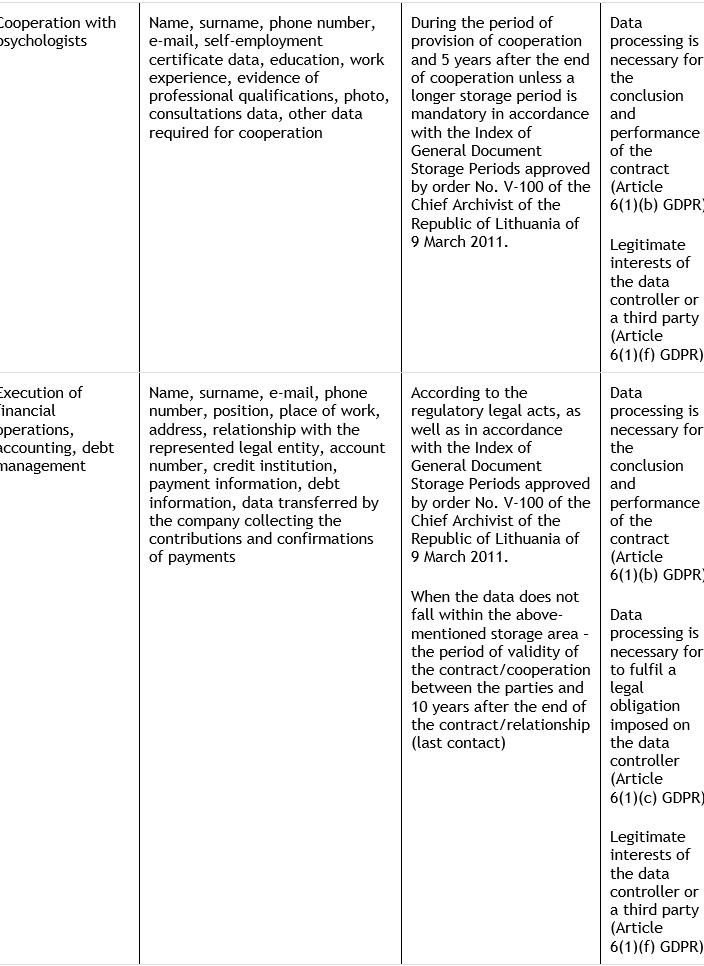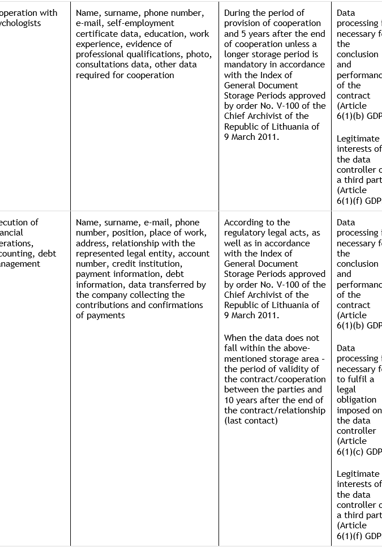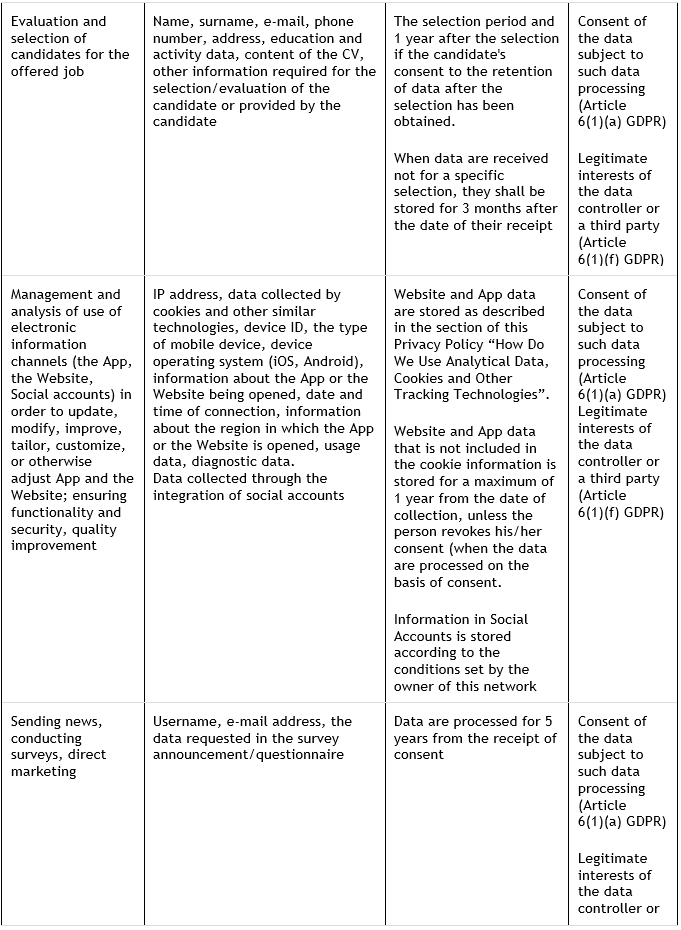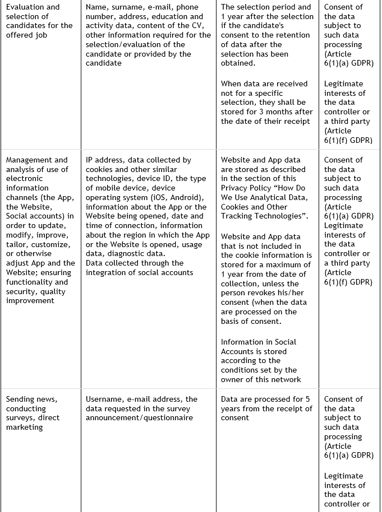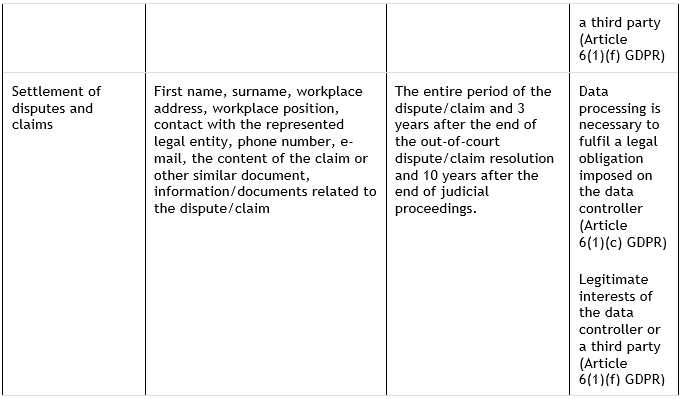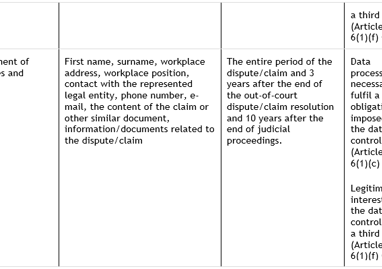 You have the right to refuse or withdraw your consent to the processing of your Personal Data at any time when these are processed on the basis of your consent.
3.5. In some cases, Personal Data may be stored for a longer period if storage of personal data is required to protect our or any third parties' legitimate interests, e. g. in case of a legal dispute, or if we are obligated to do so by law.
3.6. In Social Accounts we can share information about ourselves, our events, news, surveys, as well information about the employees or psychologist we are looking for. Social accounts users are also subject to the privacy policies of the social networks owners that include Social Accounts. When you contact us on Social Accounts, depending on the privacy settings you choose, we may see certain user account information such as profile first name, surname, image, sex, e-mail address, location. If a user posts information by communicating with us on our Social Accounts (e. g. posts a comment in the comments section of our Social Account or posts a message on our Social Account profile), depending on the privacy settings chosen, the posted information may be made public (for example, visible on our Social Account to other users).
3.7. In some cases, we may send you messages related to ordering or providing our services, for example, informing you about the confirmation of the service order, the expiration date of the ordered services, changes in the provision of services, the App updates. Such notices are necessary for the proper provision of our services and are not considered promotional notices.
3.8. You have the right to change and update your information provided to us. In some cases, we need to have accurate, up-to-date information about you, so we may ask you periodically to confirm that the information we hold about you is correct.
4. HOW DO WE USE YOUR PERSONAL DATA AND WHAT PRINCIPLES DO WE KEEP?
4.1. We collect and process only such Personal Data as is necessary to achieve the Personal Data Processing purposes we have specified.
4.2. When processing your Personal Data:
4.2.1. We comply with the requirements of current and applicable legislation, including GDPR;
4.2.2. We process your Personal Data in a lawful, fair, and transparent manner;
4.2.3. We collect your Personal Data for specified, clearly defined and legitimate purposes and do not process them in a way incompatible with those purposes, except to the extent permitted by law;
4.2.4. We take all reasonable steps to ensure that Personal Data that is inaccurate or incomplete, in accordance with the purposes for which they are processed, would be rectified, supplemented, suspended, or destroyed without delay;
4.2.5. We hold them in such a form that your identity can be established for no longer than is necessary for the purposes for which the Per.sonal Data are processed;
4.2.6. We do not provide Personal Data to third parties or disclose them, other than as set forth in the Privacy Policy or applicable law;
4.2.7. We ensure that your Personal Data are processed securely.
5. TO WHOM AND WHEN DO WE TRANSFER YOUR PERSONAL DATA?
5.1. We will only transfer your Personal Data as described in this Privacy Policy.
5.2. We may transfer your Personal Data to:
5.2.1. Our partners or consultants (such as professional service providers such as accountants, legal consultants, audit firms etc.) and our trusted services providers when they provide services to us, to you on behalf of us and under our instructions (IT, cloud, security services providers, providers of other key operational systems such as banking modules, etc.) We will control and shall remain responsible for the use of your personal data at all times. The list of our service providers and partners is provided here.
5.2.1.1. State or local government institutions and authorities, law enforcement and pre-trial investigation institutions, courts and other dispute resolution institutions, other persons performing functions assigned by law, in accordance with the procedure provided for by legislation of the Republic of Lithuania. We provide these entities with mandatory information required by law or specified by the entities themselves;
5.2.2. Other third parties, such as payment institutions, etc.;
5.2.3. If necessary, to companies that intend to buy or would buy the Company's business or would conduct joint activities with us or would cooperate in another form, as well as to companies established by us.
5.3. We normally process Personal Data within the European Economic Area, but in some cases your Personal Data may be transferred outside the European Economic Area (hereinafter "EEA"). Your Personal Data will only be transferred outside the EEA under the following conditions:
5.3.1. Data are transferred only to our reliable partners who ensure the provision of our services to you;
5.3.2. Data processing or provision agreements have been signed with such partners, which ensure the security of your Personal Data;
5.3.3. The Commission of the European Union has decided on the eligibility of the country in which our partner is established, i.e., an adequate level of security is ensured; or
5.3.4. You have given your consent to the transfer of your Personal Data outside the European Economic Area.
6. WHAT RIGHTS DO YOU HAVE?
6.1. As a data subject, you have the following rights with regard to your Personal Data:
6.1.1. To know (to be informed) about the processing of your Personal Data (right to know);
6.1.2. To access your Personal Data and the way they are processed (right of access);
6.1.3. To request the correction or, depending on the purposes of the processing of Personal Data, supplementing of incomplete Personal Data (right to rectification);
6.1.4. To request the erasure of your Personal Data or the suspension of your Personal Data processing activities (excluding storage) (right to erase and right to "be forgotten");
6.1.5. To request us to restrict the processing of Personal Data for one of the legitimate reasons (right to restrict);
6.1.6. The right to transfer data (right to transfer). This right will be exercised only if there are grounds for its exercise and appropriate technical measures to ensure that the transfer of the requested Personal Data does not pose a risk of security breach to the data of other persons;
6.1.7. The right to object the processing of your personal data when we process Personal Data on the basis of a legitimate interest of the Company or a third party, including profiling. If you object, we will only be able to further process your Personal Data for compelling legitimate reasons that take precedence over your interests, rights, and freedoms, or to make, enforce or defend legal claims;
6.1.8. Withdraw your consent to the processing of your Personal Data when this data is processed or intended to be processed for direct marketing purposes, including profiling as far as such direct marketing is concerned (based on the Personal Data you provide, profiling may be carried out for direct marketing purposes in order to offer you individually tailored solutions and proposals. You can revoke your consent to the processing of personal data by automated processing, including profiling, or object to it at any time).
6.2. We may refuse to implement your rights listed above, except for refusal to process your Personal Data for direct marketing purposes or in other cases where Personal Data are processed with your consent, where GDPR provisions allows us to disregard your request, or where in cases provided for by law, the prevention, investigation, and detection of criminal offenses, breaches of official or professional ethics must be ensured, as well as the protection of the rights and freedoms of the data subject, us and others.
6.3. ou can exercise some of your rights as a data subject by changing the settings of the user account and the information contained therein. You may submit any request or instruction related to the processing of Personal Data to us in writing by e-mail info@mindletic.com. When you make such a request, we may, in order to better understand the content of your request, ask you to complete the necessary forms, as well as provide an identity document or other information that will help us verify your identity. If you make a request by e-mail, depending on its content, we may ask you to come to us or make a written request.
6.4. Upon receipt of your request or instruction regarding the processing of Personal Data, we will, no later than within 1 month from the date of the request, provide a response and perform the actions specified in the request or inform you why we refuse to perform them. If necessary, the specified period may be extended by a further 2 months, depending on the complexity and number of applications. In this case, we will notify you of such an extension within 1 month of receiving the request.
6.5. If Personal Data are deleted at your request, we will retain only copies of information that is necessary to protect the legitimate interests of us and others, to comply with government obligations, to resolve disputes, to identify disruptions, or to comply with any agreements you have with us.
7. WILL WE SEND YOU NEWS?
7.1. You can give us your consent if you wish to receive our offers and information about our services, activities and offers. You can also give us your consent to help us evaluate the quality of our services.
7.2. With your consent, the news of your choice will be sent to you by e-mail specified by you. After receiving your consent, we can send you news, inquire about the quality of our services and maintenance by e-mail, as well as invite you to fill in quality assessment forms.
7.3. We may send in-app messages for you in the App for the above-mentioned purposes. We always provide you an opportunity to opt-out from receiving that kind of notifications.
7.4. After sending the news, we can collect information about the people who received it, for example, which message the people opened, what links they clicked on, and so on. Such information is collected in order to offer you relevant and more tailored news.
7.5. Your contacts may be passed on to our partners/processors who provide us with news delivery or quality assessment services.
7.6. If you agree to receive news or share an opinion about the quality of our services, you may withdraw your consent at any time without giving reasons for the refusal (disagreement) by writing an e-mail to info@mindletic.com or in another way specified in the message provided to you (for example, by clicking on the relevant link in the newsletter) or by changing the App settings, etc. Then we will immediately stop sending news to your contacts.
7.7. Withdrawal of consent does not automatically oblige us to destroy your Personal Data or provide you with information about the Personal Data we process, so you must make such a request separately in order for us to perform these steps as well.
7.8. In order to show you more relevant personalized advertising, our advertising partners use various mobile and web cookies. Personalized advertising will be shown to you only with your consent. Advertising personalization cookies are used to measure a group, activate contextual advertising, and/or target campaigns. If you give us you permission to use cookies, a user profile with a pseudonym will be generated, but it will not be possible to identify the person's identity. We have no control over these third-party tracking technologies and their use. These service providers are subject to confidentiality agreements with us and other legal restrictions. Third-party cookies are governed by the privacy policies of third parties. You can refuse personalized cookies by changing your browser settings or by other means, which are described in Chapter 9 of the Privacy Policy.
8. HOW DO WE PROTECT YOUR PERSONAL DATA?
8.1. Your Personal Data are processed responsibly, securely and is protected from loss, unauthorized use, and alteration. We have put in place physical and technical measures to protect the information we collect from accidental or unlawful destruction, damage, alteration, loss, disclosure, as well as from any other unlawful processing. Security measures for personal data shall be determined considering the risks arising from the processing of Personal Data.
8.2. Although we will do our best to protect Your Personal Data, we cannot guarantee the full security of Personal Data shared or transmitted to the Website or App. However, once we have received your information, we will use strict procedures and security features to try to prevent unauthorised access.
8.3. When we share your Personal Data with the organization which are you an employee/ member of, we only provide anonymised information to the representative of the organisation to show generalised trends of the emotional balance within the organisation. We do not provide any identifiable personal data.
8.4. When we share your Personal Data with the insurance company that covers your services expenses, we ensure that all Personal Data is encrypted.
8.5. Our employees and psychologists cooperating with us have made a written commitment not to disclose or distribute your Personal Data to third parties.
9. HOW DO WE USE ANALYTICAL DATA, COOKIES AND OTHER TRACKING TECHNOLOGIES?
9.1. We always improve our Website, App and user experience. Therefore, we have to know what information is most relevant to the Website and the App visitors, how often they connect, what browser and device they use, what content is mostly read, what region visitors come from, and similar demographics and statistics. For this, we use Google Analytics tool, which lets us collect and analyse the relevant data. You can learn more about how Google Analytics works and the information it allows us to collect and analyse here. You may opt out from collection of data by Google Analytics, as described here. You, also, can change your browser settings to prevent Google Analytics from analysing information
9.2. Cookies are small files that are stored in the browser of a Website visitor's device when you browse websites. Other technologies, such as pixels, local storage, etc. may be used for similar purposes. Cookies are widely used to make websites work or to function better and more efficiently. In this policy, all of the above technologies are referred to as "cookies".
9.3. We use cookies to analyse information flows and user behaviour, to promote trust and ensure security, as well as to ensure the proper functioning of the Website, the App its improvement, memorization of your chosen settings, to personalize the content displayed to you, to link the Website, the App or to Social Accounts.
9.4. You can choose whether you want to accept cookies. If you do not agree to cookies being stored on the browser of your computer or other device, you can mark it in the cookie acceptance bar, change the settings of the browser you are using and disable cookies (all at once or one by one or in groups). To opt out of cookies on your mobile device, you must follow the official instructions for that device. You can control and/or delete cookies as you wish – for details, see http://www.youronlinechoices.com/ and http://www.AllAboutCookies.org. You can delete all cookies that are already on your computer and you can set most browsers to prevent them from being placed. But if you do this you may have to manually adjust some preferences every time you visit the Website or the App while some services and functionalities may not work.
9.5. You may opt out of the use of third-party cookies for advertising purposes by visiting the Network Advertising opt-out page at http://www.networkadvertising.org/managing/opt_out.asp.
9.6. We may use mandatory cookies that are necessary for the operation of the Website, analytical cookies, functional cookies to analyse Website traffic, memorize user preferences and adapt them to the Website so that we can provide enhanced features, performance cookies, third-party cookies that use third parties, advertising cookies to display personalized and general advertising to you.
9.7. We also use the following Google Inc. products:
9.7.1. Google AdSense – allows to evaluate your use of the Website and the App in relation to the advertisements displayed and to provide in. formation-based reports. Data collected by Google AdSense is typically transmitted and stored on a Google server in the United States. If you do not want to receive customized ads, you can change your settings at https://www.google.com/settings/ads as needed. In this case, you will be given an opt-out cookie. However, if you delete all cookies, the opt-out cookie may also be deleted.
9.7.2. Google Remarketing – allows to repeatedly show ads on sites in the Google Inc. partner network. If you do not want to receive customized ads, you can change your settings at https://www.google.com/settings/ads as needed. In this case, you will be given an opt-out cookie. However, if you delete all cookies, the opt-out cookie may also be deleted.
9.8. Cookies we use:


10. CONTACT US
10.1. If you have any questions about the information provided in this Privacy Policy, please contact:
E-email: info@mindletic.com
Address: I. Kanto g. 2-3, Kaunas, Lithuania.
Phone: +370 630 45689
10.2. If you wish to make a complaint about our processing of Personal Data, please provide it to us in writing, providing as much information as possible. We will cooperate with you and try to resolve any issues immediately.
10.3. If you think that in accordance with the GDPR your rights have been violated, you can submit a complaint to our supervisory authority – the State Data Protection Inspectorate, more information and contact details can be found on the Inspectorate's website (https://vdai.lrv.lt/). We strive to resolve all disputes promptly and peacefully, so we invite you to contact us first.
11. FINAL PROVISIONS
11.1.We may change this Privacy Policy. We will notify you of any changes on the Website by posting an updated Privacy Policy or by other usual means of communication. Amendments or modifications to the Privacy Policy will be effective from the updating date specified in the Privacy Policy unless a different effective date is specified.
11.2. If you continue to use the App, the Website, order services from us, contact us after we have changed the terms of the Privacy Policy, you will be deemed to have agreed to the changed terms of the Privacy Policy.