Info for mental health professionals
How 1on1 consultations work?
A person in need gets into the Mindletic app, acknowledges their emotions (list created in cooperation with our psychologists), Mindletic app informs the person that it's ok to feel this way and that there's something they can do. A person chooses one of the proposed solutions depending on their anxiety and experience level: breathing exercises, community support or 1on1 talk with a professional.
If the person chooses 1on1 talk with a professional, a list of professionals appears on the screen.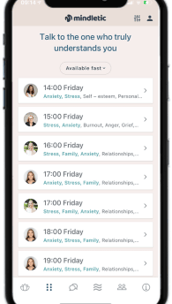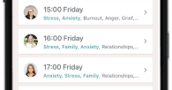 The user is able to select 1 of 3 languages (Lithuanian, Russian, English) in which they wish to talk. Also user is able to choose out of 13 topics he might want to discuss with a professional. The person selects a professional to talk to and starts the process of booking a meeting.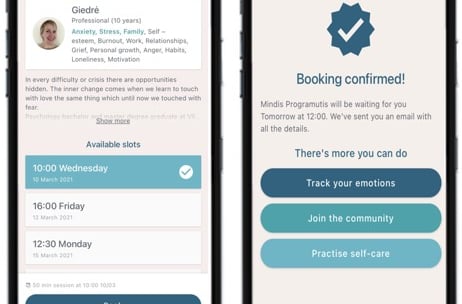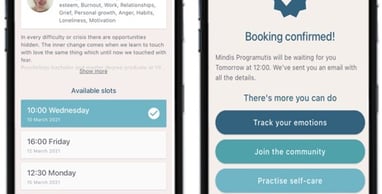 The person will be able to select a preferred time slot before the meeting arrangements can be finalised and confirmed. In order to book the time slot, user must mark the checkbox confirming that they are above 18 years old and that they agree on Mindletic Terms & conditions.
Once the meeting is confirmed, both sides receive a confirmation email with further instructions.
In case the person chooses "Available fast", she/he immediately gets the list of closest possible open time slots.
Important
Availability. If your availability changes, please let us know right away (at least 18 hours before the consultation) by writing info@mindletic.com or calling +37062573667 as this has to be taken out of the program so people would not book your time and we wouldn't need to make changes afterward and create even more stress to those in need.

Time per session. The length of the consultation should be around 50 min. In case you have more than 1 slot during the same period of time, make sure you finish one before getting into the next one (have time to prepare and have a snack :) ). The minimum amount of time to be informed about the meeting is 4 hour, i.e. if you have declared you are available at 14 o'clock, the latest you will be informed in case you have a meeting scheduled for you is 10 o'clock.

Client's side. For now there's no limit in regards to the number of sessions possible per same email (client) therefore it could be the case that the same client would occur again. Upon booking both sides, client and professional will receive an email with details and tips on how to make this experience the most valuable. Guidelines include a suggestion to choose private, safe, silent and comfortable space; make sure wifi, audio and microphone are working properly. Clients will be informed about the professional being in a private space during the call as well so please make sure you read Mindletic guidelines before a call :)
Pleasant experience. In order to provide instant help, we ask for little information from the one who's booking the meeting. It could be the case that both client and a professional would not be a great match, therefore, please let us know if you feel uncomfortable or disrespected by any of the enquiries and feel free to finish the talk earlier than planned. Also please let us know (info@mindletic.com) the email and the name of the person who is in your opinion using this service somehow inappropriately.
We wish you both to have a great experience and ongoing nurturing relationship!
GUIDLINES
How will it work with Mindletic?
•Once you've booked, 30mins prior to the meeting we will send you an email with the joining info.
•10 min before the call go to the Mindletic app and press on an icon of two people. You'll find the upcoming consultation where - join it. The room will be open for one hour.
•You can also join the call via your computer's internet browser - follow the joining instructions you have received via email 30 mins prior the consultation. The room will be open for one hour.
•You are free to leave the video meeting at any time.
•We ask you to wait at least 20 minutes from the beginning of the consultation time before leaving the room if the client doesn't show up.
•This video meeting room is private, generated for this call only and is shared between you and the professional. Confidentiality guaranteed.
How to prepare:
•Make sure you have a good internet connection. You may also prepare extra connection to switch quickly in case of emergency (like your mobile 'personal hotspot')
•Make sure your camera, speakers and microphone are working well (we suggest using headphones with a microphone for better sound quality)
•Choose a quiet, private place where you feel safe and comfortable
You may also check our Terms & Conditions as well as Privacy policy that all clients are required to agree prior to the booking.
Requirements for clients
The client must agree with our Terms & Conditions as well as Privacy policy. The client must be at least 18 years old. The client must not record in anyway the conversation that takes place with a psychologist and is not allowed to distribute any material of the conversation (examples being voice recordings, films, screenshots, but not limited to). If the client does not show up immediately, the psychologist is encouraged to wait for 10min and if the client does not show up meanwhile, the psychologist is welcome leave the room. The client must choose which country is he/she calling from.
Other functions in the Mindletic app
A person may also choose to use our breathing exercises functionality and/or join the community support rooms limited to up to 7 people per room. Rooms will be monitored by trained volunteers (Including Jaunimo Linija) most of the time (depending on the number of volunteers). Monitors of the room can engage in the conversation as much as they feel like, but they do not facilitate nor guide the discussion. Monitors can enter the room the same way as other participants via the app (no separate role has been established yet). The aim of the room is to create a safe and nice online environment to discuss in chat related topics that appeared during our research: calming methods, support one another in crisis, have coffee together, meditate together.
You can find FAQ here.
Mindletic Team
Professional geeky team of seniors from IT companies, trusted support organisations and amazing mentors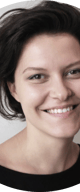 Ieva Vaitkevičiūtė - founder, background in psychology, ex co-founder of HR tech, UX/product at wellness & health app. Linkedin.


Ieva Šapalaitė - head of operations, educational background in psychology, experience in HR field. Linkedin


Domas Nutautas - chief technology officer Linkedin